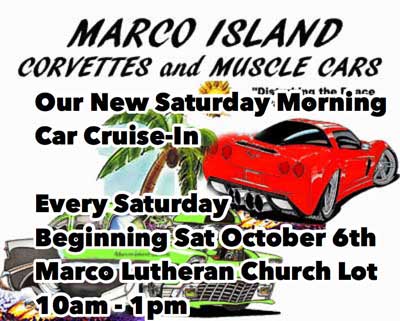 This new weekly event will draw a significant amount of interest from the many car enthusiasts here on the island especially during our peak seasons.

We will expand the cruise-ins to include some fund raising car shows in the near future. Please spread the word.
Thanks to the good people at the Lutheran church for allowing us to use their facility.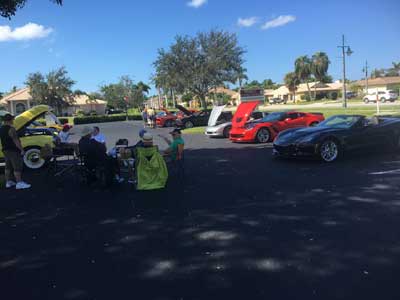 O

ur Saturday morning cruise is a huge success. The location is perfect

. The lot is on Marco's main drag so it gets great exposure. We are going to make Marco Island the new "go-to" place for car guy's.


Other Upcoming Car Shows


The Marco Christmas Parade
Date: Saturday Dec. 15th
Time of parade 6:30pm cars need to be staged at 5:30pm

We are entered in the parade this year. Put some lights on your car,get a Santa hat and throw out some candy to the crowd.

If you want to show off your car in the parade we will be staging our cars at 5:30pm on the corner of Whitehart ave and Balfour blvd. (SanMarco rd, turn on Heathwood turn left on Whitehart to Balfour.)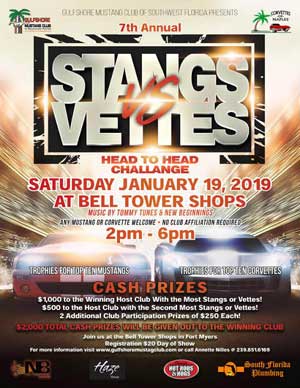 Our favorite show of the year. You can't miss this one. We will have spots reserved for us.

G

et off the couch and give your car some exercise this week

.
We know you are down here because we see you driving your cars during the day. Give your wife a break and let her watch one of those "dancing and singing with the bachelor" tv shows in peace.

The Friday night weekly meeting is a great excuse to get out of the house by yourself and shoot the bull with the guy's one night a week.
Take your wife to our new Saturday morning cruise its more "Politically Correct".

If the streets are dry come on down to the Town Center Mall parking lot, in front of the old Susie's diner on Friday nights.

We start showing up at around 7:45pm and usually hang around for two hours or so.

If you want to round out your need for weekend speed check out our new Saturday morning cruise-in.
The gear heads will gather every Saturday at 10am in the parking lot of the Marco Lutheran church on Collier Blvd.

Click here for some photos of club members cars: Photos



Please send me an email with your name, car info and telephone number so we can better coordinate some of the future events we have planned. If you have any ideas speak up.


E-mail me at

marcoislandmusclecars@gmail.com




West Coast Muscle Car Show


Another great show this year, the weather and company was outstanding.

Click here to see some photos of our cars that were entered :

2018 Marco Car Show






"The good old boys" enjoying the shade
The Naples Daily News featured the old Culvers cruise in their "Wheels" section.

.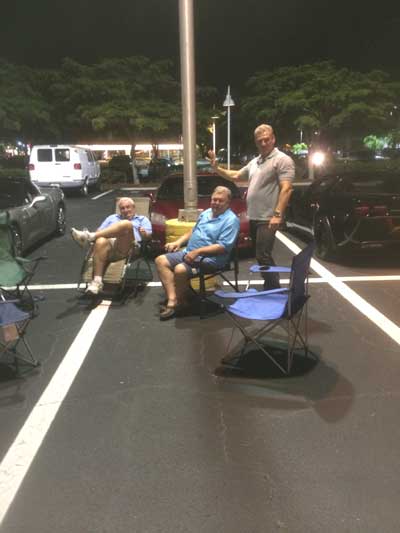 The Friday night hang out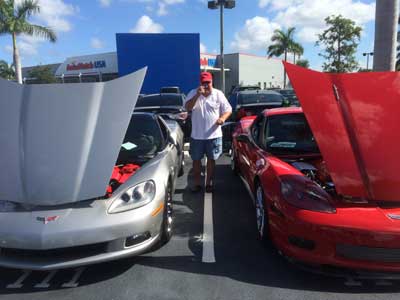 Ft Myers car show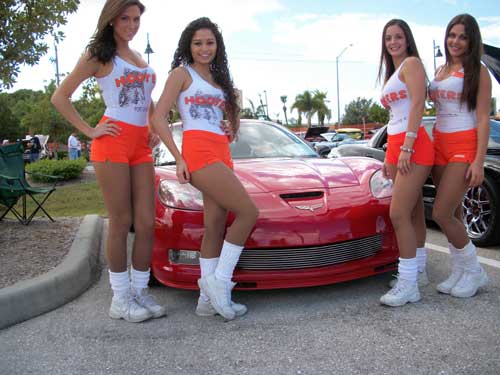 The Girls from Hooters pay us a visit
check out some of our recent cruise-ins at:
CRUISE NEWS
The Marco Eagle gave our club a nice plug

Keep up the participation and word of mouth advertising. Please tell everyone you know who has a Corvette or a Muscle car about the club.



Corvette Trivia:
When was an AM/FM stereo radio first available in a Corvette?
Answer on the Schedule Page.

Thanks, Looking forward to seeing you.

Tony C.


If you have any questions please E-mail us at marcoislandmusclecars@gmail.com





Our Mission
We don't have a mission. The clubs only goal is to provide a fun meeting place for Corvette and Muscle Car owners.
To show off your pride and joy

To have a great excuse to get away from your wife one night a week and take your Vette, Muscle Car or Hot Rod out for a ride (sorry ladies this is Marco Island not Chicago or Manhattan we still maintain our right to be politically incorrect, but please come to our new Saturday morning cruise-ins, we promise to be on our best behavior)

To make some new friends with common interests
- We talk about cars, no politics or religion. There are no dues, no officers and no agenda.
If you are looking for a cake sale or social club you are in the wrong place.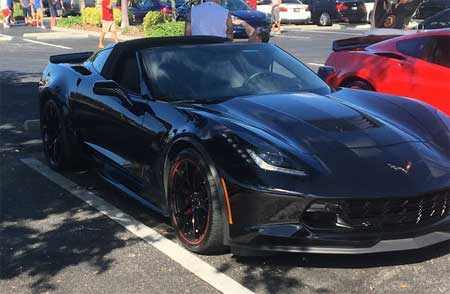 Al's 2019 C7 Grand Sport

You Asked for a club shirt, well here it is:
Get a club golf, T shirt, or hat with a neat Marco Island Corvette and Muscle Cars Club Logo on it. Its a great shirt to wear at our new Saturday cruise-ins.


Click Here to Get Neat Marco Island Corvette and Muscle Car Club Stuff
Help us support Jessica Stevens a Naples Fl. girl who has been suffering from a rare and debilitating disease known as RSD.
We held a fund raiser car show for Jessica a while back and we were overwhelmed with the generosity of the community. We are trying to organize another event to raise funds for her.

Jessica once an active and healthy teenager is now fighting for her life. The cost of medical treatments has devastated her family as her insurance company will not cover treatments for this horrible disease. Please help her to overcome her struggle and return to the life she once had.

Please click on the following link to find out more information and donate to this worthy cause.