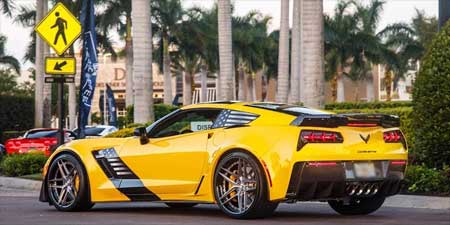 Dan and Sue Black are Corvette enthusiasts from the Sunshine State of Florida. In 2017 they decided to enter the
hyper performance world that only a Z06 could offer.
That world of speed was in the form of a 2015 3LZ Z06 with a ZO7 package. The original owner ordered this car from Kerbeck in NJ.
With only 2300 miles on the car it was sold to someone that realized that a Corvette was not the ideal mode of transportation for a young family.
Dan was fortunate enough to be at the right place and time to acquire this gem.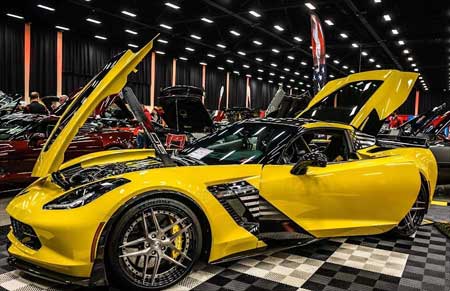 The Z06 is Dans fourth Corvette. He has owned a number of classic's, hot rods, street rods and trucks.
Dan purchased his first Corvette, a 1985 C4 in 2008. His next acquisition was a 2002 C5 Z06.
When the first C7 Z06 made its appearance in 2015 Dan was hooked.
It was not long before Dan found himself behind the wheel of a 2015 Velocity yellow Z06. As fortune would have it the yellow Z met its demise by the hands of a careless tailgater.
After that unfortunate accident Dan set out to find another 2015 as this was the only year of the Velocity yellow Z06.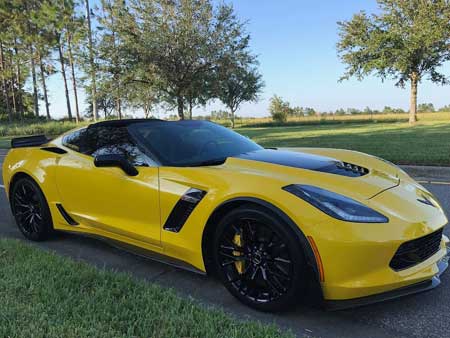 As mentioned earlier Dan found a replacement and continued his journey.
The 2017 Z was equipped with the legendary LT4 producing 650 horsepower and a tire ripping 650lb foot of torque.
A 3LZ package and the performance option of a Z07 upgrade makes Dans new toy a force to be reckoned with.
Dan like most Corvette owners are never satisfied with perfection so he began a personalized journey down the mod path which included:
A set of Polished Long Tube Headers and a Polished X-Pipe. Breathing was enhanced via an AFW Cold Air Intake system.
The stock blower was backed up by a Redline-ATI Lower billet balancer assembly and Redline-ATI 15% overdrive pulley.
A set of colder heat range spark plugs and a Custom Tune makes the Z run away from the competition. The car dyno's out at 586.1 RWHP and 622.3 Ft-lbs. of torque @ 4500RPM.
Other performance goodies include a one off custom powder coated roll bar and competition seats sets off the interior.
The paint protection comes from Gyeon ceramic coating, The show winning engine compartment is adorned with custom graphics and billet parts
A Steve Ray custom airbrushed hood liner sets this Z apart from the crowd.
Exterior enhancements include Morimoto tail lights, a set of SV301S American Hydrocarbon Signature Wheels.