Jim Spenser's love affair with the C-3 Corvette began in 1969 with the purchase of beautiful 1969 model equipped with a 350. Jim is an accomplished auto-body technician that specializes in Corvettes. He used his talents to paint his 69 six times in the ten years that he owned it. As Jim put it "Woo, too much energy"!
In September of 1979 Jim took delivery of a new C3. A few months later he went to the local Chevrolet dealership to pick up parts for a customers Corvette and saw a picture on the wall of the new 1980 Corvette. It was love at first sight. He asked the sales person to quote him a price on swapping in his 79 for the 80. As is usually the case Jim did not like what the dealer told him and decided to hold on to his 79. Jim figured that he could get a deal on an 80 C3 front end and install it on his 79. The clone with a custom paint job would make for one bad Corvette.
As things often happen Jim got married and was persuaded to sell off his favorite asset in favor of something more in line with his new domesticated status. Fast forward twenty five years and we find Jim as the proud owner of a 1980 C3. The car was completely original complete with the factory dark brown metallic paint and tan leather interior. The C3 needed brakes, suspension, engine work and a paint job. Jim decided on a complete restore that would turn some head's.
The C3 was fitted with a Daytona 4 front bumper that took over 50 hours to install. Jim also rebuilt and upgraded the entire front end and braking system. A 700 R4 trans with overdrive was installed to help keep the revs in check with the 75mph plus speeds on Florida's roads. Jim also installed a fresh 383 crate engine that showed over 400 on the dyno. The new found power finally got Jims juices flowing. As he put it "This thing's bad to the bone".


The restoration of a C3 is a huge undertaking. Part of the resto included prepping and painting the under hood and body parts. Jim completely replaced the Interior which included a custom 160 mph speedometer and custom console and shift mechanism.

Jim put about 1,000 hours of labor and spent about $35k in parts in redoing the cars exterior. Exterior work included stripping the paint, redoing body seams, door and hood gapes. Jim fabricated a set of custom fender and hood louvers that are a unique feature of his C3. The rear bumper was changed out for a fiberglass unit.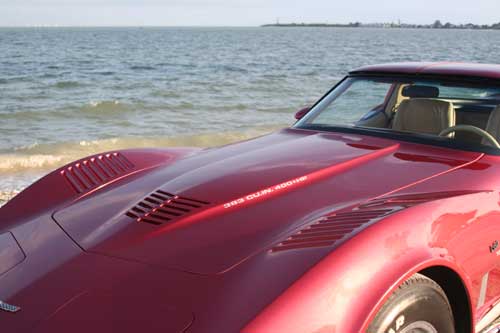 The rear was finished off with an LT-1 spoiler and custom reverse lights from a 1970 El Camino. Jim experience as a custom painter paid off as he used his old school skills and created a new Corvette color tat he dubbed Raspberry- Ice- Metallic. Jim utilized a ton of chrome on the engine, hooker side pipes and factory correct wheels. He also added chrome louvers to the sides of the fender's and front bumper.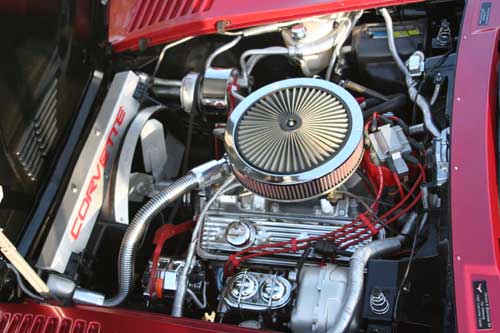 Jim told us that the sense of accomplishment is what made the project worth while. This is especially true for someone in his late fifties. Jim has enjoyed the enthusiasm of the good people that come to the car shows and compliment him on his fine work. Jim told us that driving his creation makes him feel like he is twenty years old again.

Tony Costa
and the Vette Nuts

CorvetteWeb Index Page Page