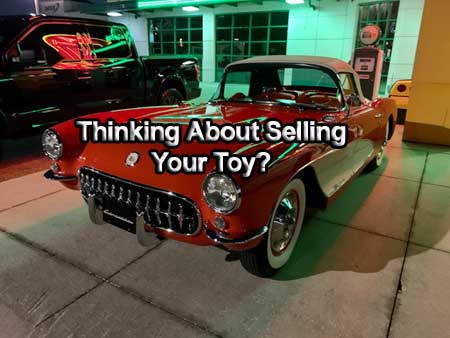 Sales and Marketing of your Classic
If you need help with the sale of your classic you have come to the right place. Our marketing pros know how to effectively manage the marketing of your car.

Our sales facilitation team will take the pain out of selling your classic by screening and qualifying all inquiries. We screen out the tire kickers, scammers and time wasters.

We have an extensive network of local, national and international buyers who are eager to purchase vintage and modern classics.

Let us do the advertising, screen out the nonsence and present you with the best offers for your car. This gives you a huge advantage in negotiating the best deal by being connected with pre-screened and qualified buyers.

The best part of our service is that it is

risk free

. There are no contracts to sign and nothing that binds you to accept any offer that is presented to you. For our efforts all we ask is a modest 3% finders fee on the final sales price of your car.


Third Party Classic Car Purchasing Advise and Appraisals

If you are looking to purchase a classic or modern Corvette we offer expert advise on what you need to know prior to finalizing the deal. Our Corvette experts can do an in depth investigation of any classic Corvette. This can help to eliminate any potential verification problems associated with the purchase of a classic Corvette.
Call "Corvette Jack" at 239-280 6855 for more information on this valuable service.




Selling your Corvette is simple

1. Call 'Corvette Jack' our Marketing and Appraisal Pro at 239 280 6855
2. Submit the cars Information to Corvette Marketplace
Submit the year, style, options and a description. Tell us your asking price for the car. Send us some photos of the car ( side, front, rear, engine, interior). Photos with uncluttered backgrounds (no garbage pails or other cars in the background) are best.
3. Sit back, let us do all the work and present you with a good offer
- Avoid the hassles, tire kickers and scam artists that will invariably prey on your private sale. Our expert, who has over forty years in the car selling business will quickly filter out and deflect these problems for you.
- We require a modest 3% commission on the final negotiated sales price. Compare our commission with consignment brokers and auction houses that charge more than 10%
Email us at Corvette Marketplace or call Jack at 239-280 6855 for more details
Check out some of the cars we have and the some of the cars we have helped sell at:
Corvette and Classic Market Place