Local car shows are a great place to meet fellow car nuts and see exactly what caused their particular brand of insanity. This past winter was particularly harsh for most of the nation. South Florida was the exception and enjoyed weather patterns that were perfect for car venues of every sort. The mild weather drew us to a car show that was held this February in Punta Gorda Florida. While at the show we were fortunate enough to meet up with a local Corvette enthusiast with an exceptional car.
The car in question was a showroom condition 1996 Grand Sport. 1996 was the last production year for the C4. GM decided to send the C4 off that year with a blast from the past. That blast was named Grand Sport and had made an earlier appearance in 1966. The Grand Sport was modeled after the original 1963 Corvette Grand Sport.
The color scheme for the 96 was based on the Grand Sport that was driven by the legendary A.J. Foyt at the 12 hours of Sebring 1964. A.J.'s car was painted blue with a wide, white stripe. The Corvettes red hash marks on the front left cowl helped identify the car as it passed the pits.
To ensure it remained a true, limited edition, only 1,000 '96 Grand Sports were built. Of these, only 190 were convertibles, and only 53 were made with the rare red/black interior option, unique to the GS. The car we are reviewing is believed to be one of only 11 Grand Sports with exact combination of options. All 96 Grand Sports were issued a distinct VIN that identified them as something very special. This car is known to the GS faithful as #707.
The engine that powered the 1996 Grand Sport was unique itself. Based upon the reverse-flow LT1, the LT4 featured raised port cylinder heads, raised port intake manifold, higher lift camshaft and other special internal modifications. At the time, this high performance engine was available for one year only and only with the ZF 6-speed manual transmission. This kind of performance had not been seen since the demise of the C4-based ZR-1, last produced in 1995.
No trailer queen, GS #707 is driven often and has made trips to Corvettes at Carlisle, Vettes on the Rockies, and the National Corvette Museum, not to mention multiple trips to the Florida Keys... with the top down, of course.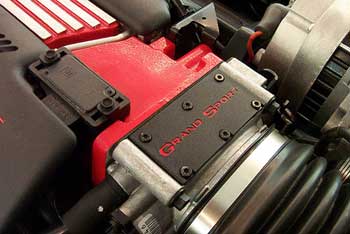 1996 Grand Sport Specs:
Drivetrain • LT4 5.7 liter/350 c.i. V8
• Sequential Fuel Injection
• 3.45:1 Rear Axle Ratio
• Horsepower: 330 @ 5800 RPM
• Torque: 340 lbs-ft @ 4500 RPM
• Transmission: six speed manual
• Engine : 5.7-liter MFI V8 LT4
• Block: Cast iron, 4-bolt mains
• Crankshaft: Cast iron, undercut and rolled journal fillets
• Pistons: Cast aluminum • Compression: 10.8:1
• Cylinder heads: Aluminum, with 185cc intake port volume
• Combustion chambers: 54.4cc
• Valves: 1.94 intake/1.50 exhaust
• Valve spring pressure: 100 lbs.
• Rocker arms:1.5:1 adjustable, self-aligning, stamped steel
• Camshaft: Roller
• Lift: .447 intake/.459 exhaust
• Duration: 202° intake/208° exhaust@.050-inch
• Intake manifold: Aluminum, matched runners
• Torsional Damper: Dual mass
Options • Grand Sport Convertible Package
• Removable Convertible Hardtop
• Red/Black Leather Trim Package
• Electronic Air Conditioning
• Dual 6 Way Power Sport Seats
• Bose Gold CD/Cassette Stereo
• Low Tire Pressure Warning
This gem belongs to proud owners John "Hutch" & Patti Hutchinson from Orlando, Florida. The Hutchinson's are particularly fond of all the Grand Sport models and operate the Official Grand Sport Registry. The registry has over 400 members in 12 countries. They are supporters and Lifetime Members of the National Corvette Museum.
G
rand
S
port no.707 has been lightly modified with the addition of the larger Grand Sport coupe wheels, tires, and rear flares. A mild Corsa cat-back exhaust system was also added to give the GS some additional growl. Other than that, Patti says "no more". In fact, she has been known to quip, "John is not allowed under the hood of her car without adult supervision".
No newcomers to the sport Hutch & Patti have owned more than 30 Corvettes over the years. Their stable has included everything from a 1958 up to a 2010 Grand Sport convertible.
Hutch is also serving as president of the Central Florida Corvette Association. Much more than a hobby the Corvette has always played a major role in his lifestyle. As Hutch likes to say, "I've never met a Corvette, or a Corvette owner, that I didn't like."
The Vette Nuts