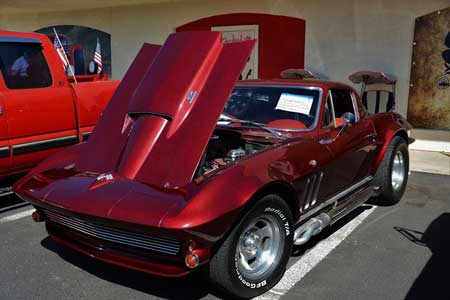 Extreme Resto
Brandt Hulderman is a Corvette enthusiast that prowls the streets of Tucson AZ. His creation comes in the form of a
wild 1966 Corvette Resto-mod.
Brands car started life as a normally aspirated 454 Small Block on Pump Gas with 10:1 Compression.
The car has Dynoed out at over 700 hp. Nothing has been spared in this spectacular build. Some of the engines new internals include :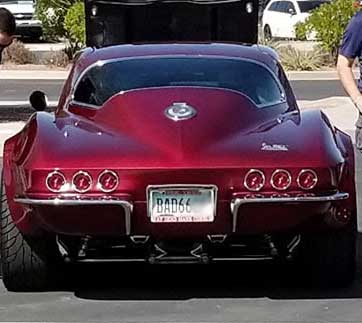 -Dart Iron Eagle Splayed Cap 4-Bolt Main Block with 4.185 Bore Eagle 4340 Steel Forged 4.125" Stroke Crank
-Eagle ESP 4340 6" Forged Steel H-Beam Rods
-AFR 235 cc Aluminum Race Cylinder Heads 2.125/1.60 8000 rpm Springs @ 640 lb/in Comp Custom Grind 50 mm Core Solid Roller Cam 268°/284° @ .05, .766/.792 lift
-DSS GSX-Series Forged Aluminum Flat Top Pistons Crower Stainless Shaft Mount -Roller Rockers 1.6 ratio & Cutaway Severe-duty Roller Lifters AFR SBC Titon TXR -Composite Race Intake Manifold
-Venom VX 1050 CFM 4150 Carb with CNC Billet Main Body and Metering Blocks
-Progression Ignition Distributor with Ignition Timing Adjusted with Smartphone or Tablet
-Richmond "Road Race" 5-Speed Trans
-11" Centerforce Dual Friction Clutch Denny's 3" "Nitrous Ready" Custom Driveshaft
-Heidt's "Superide" Chrome/Polished IRS Rear-End
-9" Detroit Tru-Trac 3rd Member
-Spicer Solid Body 1350 Series U-Joints Throughout
-3" Heavy Duty Half Shafts
-Wilwood Polished Aluminum Inboard Calipers with 11" Cross Drilled Rotors
-Quad 250# Coilovers with Billet Shocks
-Power Steering / "Hydratech" Power Braking System / IDITIT Tilt Steering Column Aerospace Components Crankcase
Belt-Driven Vacuum Pump Kit
To say that this is an extreme resto is truly an understatement.
Brandt's custom Corvette has been taken to the next level. A word of advise is not to underestimate this red devil's
capability if you ever encounter it.
return to index page