Rare Copo 66
Rich Flynn is a lifelong Corvette enthusiast that lives the good life by splitting his time between Long Island NY and Ft Myers Florida.
The "snow bird" lifestyle is very conducive to being able to enjoy your favorite hobby almost twelve months out of every year.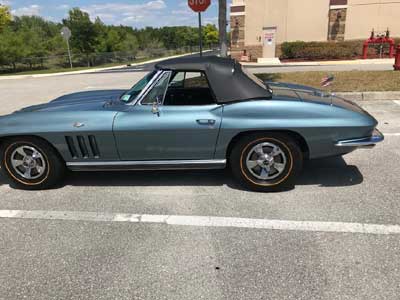 Rich's favorite toy is a 1966 roadster. That is where the description begins as this 66 is a very very rare bird.
It seems that back in 66 a GM executive found out that there would be a special color offering in the 1967 year. That color was Lynsdale Blue (color code 977)
This is where things get interesting as the GM Exec managed to
get a 1966 pulled off the line and had it painted in Lynndale blue,color code 977. This slight of hand make this 66 a very desirable COPO car.
The term "COPO," stands for "Central Office Production Order," and it was used by Chevrolet dealers to obtain all kinds of vehicle combinations that were not offered to the general public. This designation was mostly used to order special equipment non-production items for fleet use or police cars, which required approval from GM's engineering department.
Rich's car is the only pre 66 Corvette in the world that was coated in that spectacular color.
Rich did not stop at merely owning a a COPO rarity he proceeded with a full body off restoration of the car.
This 66 is equipped with with a very desirable L79 327/350 horse engine. A four speed M21 manual transmission and 1 heavy duty 3.73 posi rear help to motivate this gem.
Rich's rare bird is a hit and show stopper at every venue the car is entered into.
The car has been awarded top honors with a Bloomington Gold and NCRS TopFlight designations.
Rich has decided to part with this treasure if he finds the right buyer.
If you are interested in owning a real piece of automotive history you can find out more about the car by
going to our classics for sale page.
return to index page